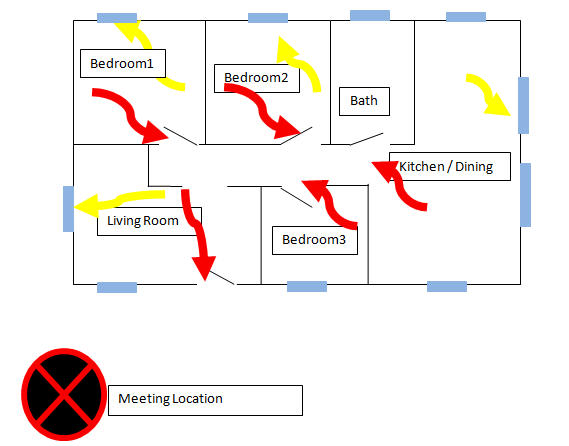 Fire Exit Drill
The best way to be sure your entire family is safe in the event of a fire is to develop AND practice a fire exit drill.
New Hanover Fire and Rescue will come to your house and help you:
Develop an evacuation plan
set a safe meeting location
Check your current smoke and CO detectors
Answer any of your fire safety questions and provide recommendations.
Contact us today to schedule your in-home survey.
Carbon Monoxide (CO)
CO is a tasteless odorless gas that forms as a result of incomplete combustion and be produced by stoves, automobiles, grills and your home furnace.  As the gas builds up in the house it will slowly deprive you of vital oxygen.
The symptoms of CO poisoning can include:
Dull headache
Weakness / Dizziness
Nausea or vomiting
Shortness of breath
Confusion
Blurred vision
Key steps to prevent a CO emergency
DO have a working CO detector, and call 911 if it goes off
DO Have your gas or oil furnace and water heaters serviced regularly
DO NOT run your vehicles, emergency power generator, or BBQ grill in closed locations like a garage
DO clear snow away from your Gas meter and furnace exhaust